THE CHURCH ORGAN PRESENTED TO THE CHURCH OF CULLEN BY H. T. WILSON IN MEMORY OF HIS WIFE - OCTOBER 1914.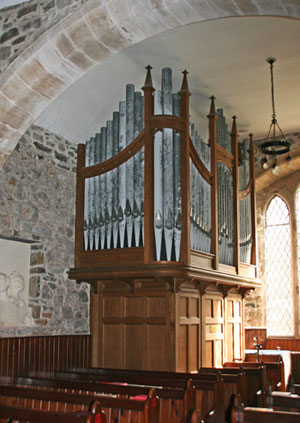 Hugh Thorburn Wilson was born at Tochieneal, Cullen on 17th September 1851. He was the youngest of a family of 13, his father dying when he was a year old. He probably started his education in Cullen, but later he continued his education at Weston House, Elgin and Edinburgh University.
Hugh Wilson joined the North of Scotland Bank at Cullen in 1870 and the following year transferred to a similar position in the Aberdeen Town and County Bank at Keith.
In 1872 he moved to a post in Australia at a salary of £60 per annum. Hugh Wilson followed a very successful career, retiring April 1924 from his post as General Manager of the Royal Bank of Australia. It is interesting to note that the total assets of the Royal Bank of Australia for the year up to the 30th September 1900 were £770,664. For the year up to 30th September 1923 the total assets had risen to £6,920,874 under Hugh Wilson's guidance.
On 1st July 1909, Annetta Wilson and her adopted daughter left Melbourne on the SS Waratah, bound for London via Durban and Cape Town. The ship sailed from Durban on 26th July 1909 and was sighted the following day by the Clan McIntyre near Cape Agulhas. That was the last anyone ever saw of the Waratah. No wreckage was found and her disappearance remained a mystery.
SS Waratah
In May 1914, whilst on a visit to Scotland, Mr Hugh Wilson informed the Minister of Cullen Old Church that he would like to present a pipe organ in memory of his wife and daughter, who had been lost in the Waratah disaster
On Sunday, 25th October 1914 the Right Reverend professor Nicol, Moderator of the Church of Scotland performed the service of dedication