The Royal Burgh of Cullen
Situated on the Moray coast midway between Aberdeen and Inverness. The population of 1300 is increased during the summer months by the many visitors who come to relax and enjoy the scenery and numerous walks around Cullen.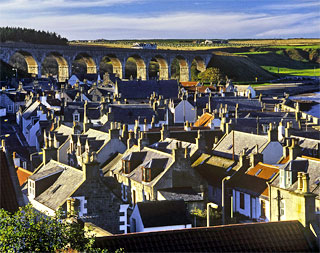 The medical centre (with two doctors) is well run and provides excellent care for the community. The main hospitals are Dr Grays in Elgin or the Royal Infirmary in Aberdeen. More locally, the Seafield community hospital is located in Buckie.
There are two nursing homes in the parish: Wakefield House in Cullen and The Lythe Home in Deskford. There is also a sheltered housing complex in the Seatown of Cullen.
With a roll of 116 (Sept 10), the local Primary school enjoys a good reputation. Secondary education is provided at Buckie High School and at Keith Grammar School from Deskford, transport is provided.
Cullen is dominated by its famous railway viaducts, now used as part of a coastal walkway and national cycle route giving breathtaking views of the Moray Firth as well as the Seatown, harbour and excellent 18-hole links golf course.
Local hotels operate to a high standard and serve good food. People come from miles around to sample our local ice cream. Within the town there are several retail shops and small businesses but the majority of the working population either commute to larger towns or are employed in the fishing, agriculture or oil industry offshore.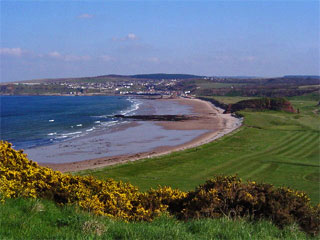 The pensioners club is well run and greatly supported by the whole community. Many people retire to Cullen because of its size and pleasant surroundings.
There is an excellent community centre that includes residential accommodation for visiting clubs and parties as well as hosting many more local activities, some of which include a very active heritage group and a wide variety of day and evening classes.
Many opportunities exist to enjoy sport with a golf club, tennis club and bowling club that make every effort to encourage youngsters to participate in their activities. There are also group activities for all ages with local ramblers and a football club. Within the town there is also an active community council.
Lying to the south of Cullen is the hamlet of Lintmill and beyond that stretches the rural area of Deskford, incorporating the hamlets of Berryhillock and Kirkton.
At the heart of Deskford is the community centre with a very active Community Association and a recently refurbished hall that hosts a large variety of activities including a well-attended Youth Group and bowling and badminton clubs.
The hall includes a busy year round social calendar and the children of the district won a prize for the best-kept rural community.
For more information about Cullen Village please visit the Cullen and Deskford Community Website www.discovercullen.com
Our Minister
Douglas Stevenson grew up in the seaside town of Ayr, famous for Robert Burns, Sydney Devine and Ayr United football team.
It didn't take him long before he discovered that he would never make any money from composing poetry, singing country ballads or kicking a ball so he followed the family tradition by training as a maintenance electrician at the Scottish Stamping and Engineering Works Ltd - known locally as the Stampworks.

He soon realised that whatever talents he might possess they didn't lie in a pair of pliers and twin and earth cable. This did not bode well so he made an executive decision to escape over the barbed wire in a cherry picker never to return. MORE
Cullen Parish Church Buildings
The Old Church is situated three quarters of a mile from the centre of the town on the original site of Cullen, the whole town having been moved to its present position in the1820-30's.
A hearing loop system has been installed recently. The national and historic importance of the church attracts many visitors on its bi-weekly open days over the summer when members of the congregation act as guides. A DVD of one of these tours is currently being sold to raise funds.
The Hall Church is an asset because it is the focal point of, not only the social and fund raising activities of the church, but also of the entire community. It can be hired out on a regular basis. Seating is for approximately 150; provision includes, stage, vestry, small side annex, kitchen and toilet with disabled facilities.
Worship
Cullen: Services are held at 10.30 a.m. in the Auld Kirk, except on the first Sunday of the month when a service is held at the Hall Church at 11am.
This is followed by a Soup and Pudding luncheon which everyone is welcome to.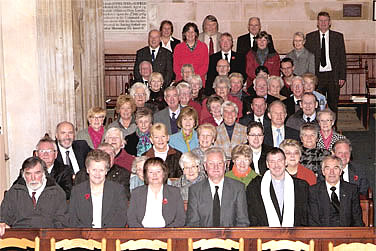 Deskford: Services are held in the Jubilee Hall Deskford on the second and fourth Sunday of each month at 12 noon
As you can see from the photograph we have a sense of humour and you will also find us welcoming and friendly – and yes we know this is something of a cliché but we are!
There are no reserved pews, nor intimidating individuals – apart from the minister but as he's from Ayr he doesn't count. We believe that the Church is for everyone and anyone – those with an abundance of faith and those with none.
We welcome discussion or questions for it is by asking and debating such things that we grow in faith. Many of us go about our daily routine quietly living out the Gospel without the need to arrogantly ev angelise. Christ was a loiterer with intent, mixing with people from all walks of life and listening to their stories - we are happy to do the same. There are no 'them' and 'us' in the Church just ordinary folks seeking some understanding in a changing world. If you join us for a Sunday or indeed a longer period it is our hope that you feel at ease amongst us and discover something of God's Peace in your life.